Denver Roof Repair & Restoration
Your Local Roof Storm Damage Repair Company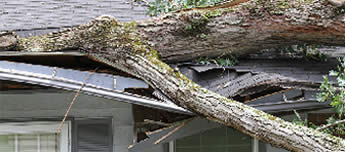 Your roof takes a beating each year from Mother Nature. Roof damage can be caused by hail, wind, rain, snow & ice, and even the sun. Denver storms roll through and create leaky roofs in their wake.
When storms cause roof damage, SMART Roofing's professional roof repair & restoration team is ready to go.  We specialize in storm damage restoration and homeowners insurance claims. We will thoroughly inspect your property and create a comprehensive evaluation and improvement estimate. Sometimes a storm damaged roof can be restored by repair alone. Sometimes complete roof replacement is required to restore your home to safety. We will discuss your options thoroughly with you.

.
.
Storm Damage Insurance Claims
We are always up to date on the latest insurance claims processes and will work with your insurance company. It is our goal to ensure the process remains as headache free as possible for you.
.
.
Signs of Roof Damage Needing Repair

Since many types of storm damage are covered under a homeowner's insurance policy, we are committed to helping our clients navigate the confusing waters of insurance claims. Here are a few signs to look for that may indicate your home is in need of storm damage repair or replacement services: